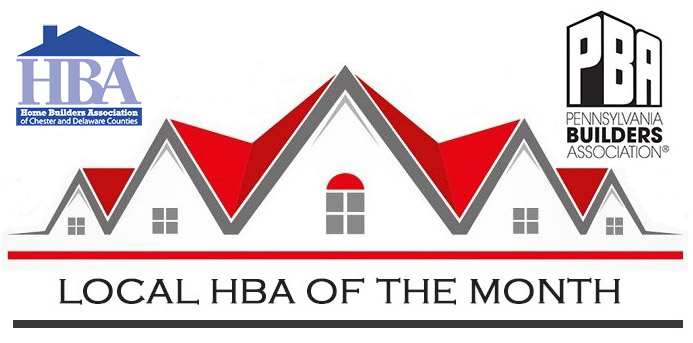 The Home Builders Association of Chester and Delaware Counties was first formed in 1988. Representing over 300 companies related to the home building industry, the HBA provides members with numerous educational and networking events along with a wide range of benefits. In addition, members are consistently giving back to their community.
Led by President TR Moser of Moser Homes, the HBA is guided by an experienced slate of directors and Executive Vice President Lauren Adams. Lauren works alongside Marketing and Membership Director Rachael Lutcher, to plan, organize, direct, and coordinate programs and activities – and keep members informed all along the way.
The HBA of Chester and Delaware Counties regularly interacts with the Southeast Department of Environmental Protection, PennDOT, and County Conservation Districts to ensure a reasonable regulatory environment for builders and homeowners alike. Those advocacy efforts, along with established relationships with local governments, saves industry members – and ultimately homeowners – thousands of dollars each year.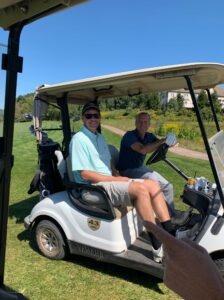 Besides the local's outstanding governmental affairs work, the HBA also works with PBA to provide member benefits such as the workers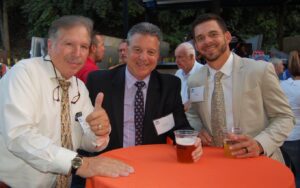 compensation program, health benefits, discounts on products and services, and more. As they like to say, "Membership doesn't cost – it pays!"
Chester/Delaware members are among the most active in their community. They subscribe to the motto "Building Better Communities Together" by working with the American Red Cross to host open blood drives and raising money for shelters including Covenant House, Home of the Sparrow, as well as organizing annual drives for food, coats, and toys. Members are leaving their mark.
Perhaps one of the largest projects the HBA has taken on was the recent expansion of the Community Volunteers in Medicine (CVIM) facility in Chester County. Members had previously partnered with CVIM to collect over the counter medicines and dental supplies for the local community. However, when the CVIM experienced growing pains, members stepped up.
Spearheaded by volunteer project coordinator Jay Greene of Jay Greene Photography, members volunteered time, labor, materials, and funding to renovate the second-floor space allowing CVIM to grow in support of their community healthcare services. The HBA was able to bring the project to completion in just under a year. The total cost of the project was over $76,000.
Activities included waste removal, cad drawings, architectural plans, interior design consultation, project management, photography,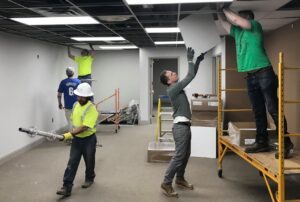 plumbing repairs and installation, HVAC maintenance, electrical work, flooring removal and installation, installing bathroom vanity, mirrors, sinks, toilets, egress lighting, LED ceiling fixtures, extensive painting, scaffolding, ceiling tiles, molding, and fixtures.
The result was spectacular!
Denise Mahal, Vice President of Development for CVIM commented, "Community Volunteers in Medicine is exceptionally grateful to the Home Builders Association of Chester & Delaware Counties for all of their hard work in renovating our new administrative wing. This additional office space will allow us to free up additional rooms for clinical patient care, and to expand our footprint literally and figuratively. The donated time and materials of the HBA allowed this project to be possible, and their support of CVIM has been invaluable."
The hard work also earned the HBA of Chester and Delaware Counties the PBA Community Project of the Year Award for 2019.
Speaking of awards, the HBA annually celebrates the work of members with the Synergy Awards. In conjunction with the HBA of Bucks and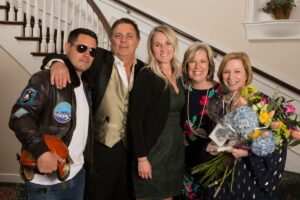 Montgomery Counties, the awards recognize projects and accomplishments of member organizations. More than 80 categories ranging from Promotional Events and Interior Merchandising to Builder of the Year, Custom Homes, and even marketing efforts are honored during the ceremony.
Residents often call on the HBA for help in locating a builder or renovation expert. The website includes a membership directory where consumers can search for a qualified professional to help make their home dreams come true.
For more than 30 years, the HBA of Chester and Delaware Counties has been dedicated to serving the home building industry.
HBA of Chester and Delaware Counties
1509 McDaniel Drive
West Chester, PA 19380
(610) 692-7733
Email
Website