Registrations are now open for the 2022 Fall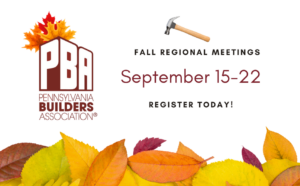 Regional Meetings.
Regional meetings are important opportunities for PBA members to stay informed and to have their voices heard.
At this time most meetings are being held in person. If that status changes, all registrants will be notified. Members should check their email after September 8 for meeting materials.
Please check to make sure which region your local association is in, and click on the link to register.
Be present. Be heard. Be involved.
SOUTHEAST REGION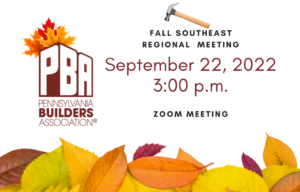 The Southeast Region includes the following locals: BIA of Philadelphia, HBA of Berks County, HBA of Bucks & Montgomery Counties, HBA of Chester & Delaware Counties, Lehigh Valley BA
_________________________________
SOUTHCENTRAL REGION
The Southcentral Region includes the following locals: BA of Adams County, BIA of Lancaster County, Franklin County BA, York BA
_________________________________
NORTHWEST REGION
The Northwest Region includes the following locals: BA of Northwestern PA, Lawrence County BA, Mercer County BA, Tri-County BA
_________________________________
NORTHCENTRAL REGION
The Northcentral Region includes the following locals: BA of Central PA, Central Susquehanna BA, West Branch Susquehanna BA
_________________________________
SOUTHWEST REGION
The Southwest Region includes the following locals: BA of Metropolitan Pittsburgh, BA of Fayette County
_________________________________
MIDWEST REGION
The Midwest Region includes the following locals: Blair-Bedford BA, Clearfield County Chapter, Greater DuBois Area BA, HBA of the Alleghenies, Indiana-Armstrong BA, Somerset County BA
_________________________________
NORTHEAST REGION
The Northeast Region includes the following locals: HBA of NEPA, Carbon BA, Pocono BA, Wayne Pike BIA, Bradford County Chapter
_________________________________
MIDEAST REGION
The Mideast Region includes the following locals: HBA of Metropolitan Harrisburg, Lebanon County BA, Schuylkill BA
_________________________________