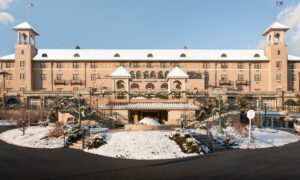 The Winter 2023 PBA Meetings and Installation Gala will be held February 9-11 at The Hotel Hershey. There is a PBA Room Block set up and the deadline for members to get this rate is January 9. The regular advertised rate for a room at the Hotel on that Friday and Saturday night is $399 per night plus tax!

Please be sure to click on the link below to access the online reservation system:
https://reservations.hersheypa.com/HRSApp/HRSHome?groupCode=PBABODM2023H&venue=hotelHershey
Guests who prefer to call to make reservations may call 855-729-3108 and ask for the room block for the Pennsylvania Builders Association's Board of Directors Meeting at The Hotel Hershey.  The reservations team is available seven days a week from 8 AM – 8 PM to assist you.
The Group's Room rate is:
$189 per room per night plus 11% taxes = $209.79
Credit cards are charged a one night's advance deposit including tax at time of booking a room reservation.
Please be aware that the room block cut-off date is Monday, January 9, 2023.