On Friday, February 25, PBA installed Cathy Sloan as the President of PBA. In addition, Regional Vice Presidents, Regional Legislative Officers, the Professional Women in Building Chair, and the PBA Senior Officers all took the oath of office to officially kick off 2022.
The celebration was held at the DoubleTree by Hilton Hotel in Reading as part of the Winter Committee and Board of Directors meetings.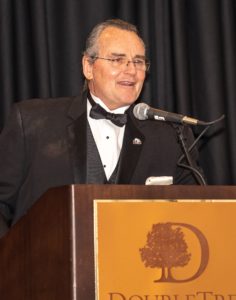 The evening was emceed by 2018 PBA President – and Cathy's husband – Kert Sloan. Kert welcomed special guests U.S. Representative for Pennsylvania's 9th Congressional District, Dan Meuser; PA House Representative Barry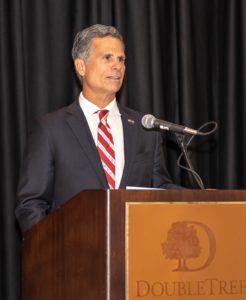 Jozwiak, 5th Legislative District; and Berks County Commissioner Christian Leinbach.
Representative Meuser offered his comments and congratulations to Cathy Sloan and all the incoming PBA officers.
Not only was the night a celebration of the 2022 officers, but also a thank you to Immediate Past President Cindy Cepko. Cindy was presented with tokens of PBA's sincere appreciation for serving members during a challenging – mostly virtual – year.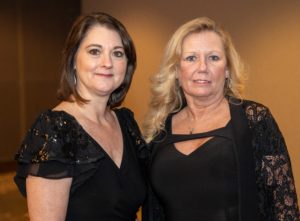 Cindy then installed Anya Chrisanthon as the Chair of the Professional Women in Building Council for 2022 before handing the program over to Commissioner Leinbach.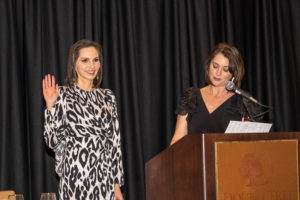 Following remarks, Commissioner Leinbach administered the oath of office to the Regional Vice Presidents, Regional Legislative Officers, and Senior Officers including the following:
Regional Vice Presidents
Steve Brown, Northcentral
Jake Arner, Northeast
Kevin Kozo, Southcentral
Sam Carlo, Southeast
Heather Dieckmann, Southwest
Regional Legislative Officers
Robert Wright, Mideast
Gene Horomanski, Midwest
Matt Keith, Southwest
Officers who could not join the celebration were also recognized: RVPs Darrell Adams (Mideast), Matt Houser (Midwest), Paul Bell (Northwest); RLOs Dave Balent (Northeast), Hurley Kane (Northcentral), John Bear (Southcentral), and Rich Carroll (Southeast).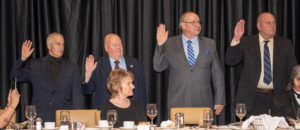 Senior Officers
John Olson, Vice President
Thomas McCosby, Secretary
Richard Clawson, Treasurer
Dean Hilliard, Associate Vice President
Cindy Cepko, Immediate Vice President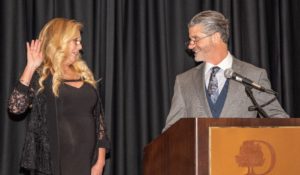 Cathy Sloan asked a good friend and colleague Kevin Kozo to install her as PBA President. Kevin shared stories of working with Cathy and his admiration of her abilities before having her raise her right hand and take the oath of office.
Peter Bonargo, IV, President of the Home Builders Association, read a proclamation by Senator Judy Schwank of Pennsylvania's 11th Senatorial District before Cathy took the
podium. She gave a heartfelt thanks to the evening's sponsors, her family, and PBA members for their support. She pledged to represent the needs of all members as well as the local associations.
Congratulations to all the 2022 PBA Officers!