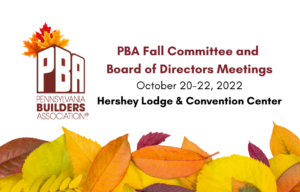 Registration is now open for the Fall 2022 Committee and Board of Directors meetings set for October 20-22 at the Hershey Lodge and Convention Center.
All meetings are open to members except where noted. Committee meetings will help shape plans for the coming months in the areas of membership, workforce, and additional services provided by PBA.
The Saturday morning Board of Directors meeting will include voting on the 2023 budget and the final vote on 2023 leadership.
The Hershey Lodge and Convention Center is providing a rate of $189 (plus 11% taxes) per night until September 26, 2022. Use the link https://reservations.hersheypa.com/HRSApp/HRSHome?groupCode=PBABD2022l&venue=hersheyLodge
If you prefer to reserve by phone, please call 1-855-729-3108 between 8:00 a.m. and 8:00 p.m. Guests must identify themselves as part of PENNSYLVANIA BUILDERS ASSOCIATION's group and must provide their name, type of room, check-in and check-out dates and special accommodation requests.
To register for the meetings, please CLICK HERE.