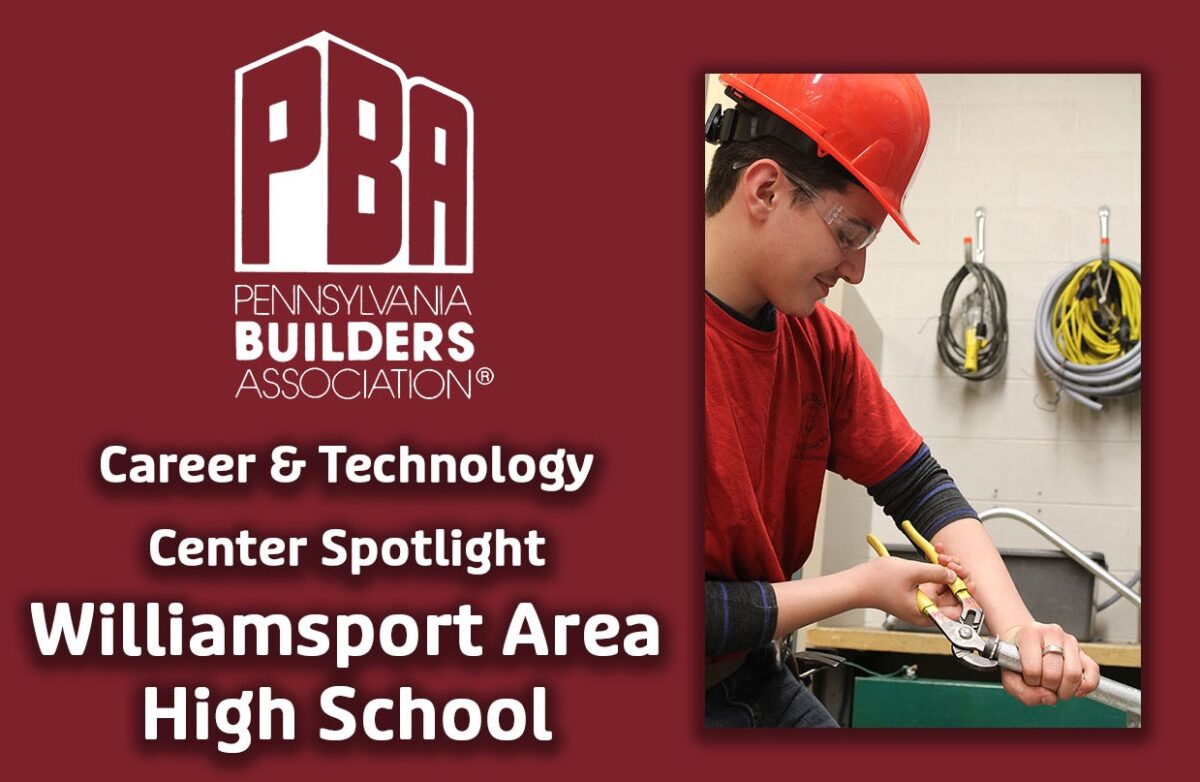 An education in the trades is an excellent return on your investment. Not only does it provide training for a skill that can be used for a lifetime, but it also puts workers in the field in a shorter amount of time and with significantly less amount of debt than a four-year education.
Students across Pennsylvania are fortunate to have several choices to take advantage of programs that can help get them ready for a career.
Williamsport Area High School offers career and technical education in a number of fields of study. Their Construction Trades PDE Program of Study is a part of the PBA Endorsed Trade Program (ETP).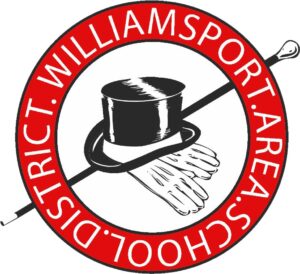 There are currently 47 students enrolled in the curriculum which is instructed by Randy Williamson – and the ETP has boosted the program in a number of ways.
According to Williamson, the Endorsed Trade Program provides the opportunity for his students to connect with members of the local West Branch Susquehanna Builders Association (WBSBA). Those connections have made it possible for students to participate in the local home show, go on field trips to member work sites, and attend member meetings.
"Students have also received local HBA funding to attend competitions at the International Builders' Show," said Williamson. "Plus, there are CO-OP opportunities for seniors."
Networking has made it easier in the job-hunting process. Williamson explains that when a good student says they are looking for a job, with a phone call and 15 minutes, they are hired or have an interview scheduled. Some students even get job offers prior to graduation.
It is a collaborative effort. Members of the WBSBA also take a hands-on approach. They do everything from volunteering time on the school's Occupational Advisory Committee to help guide the program, evaluating the program for the Endorsed Trade Program, proctoring tests, sharing their needs and expectations in the field with students, and spending time in the classroom.
"Students have always been most engaged when working on live projects," Williamson said. "Projects they know for years to come will still be standing."
So, what's the biggest need facing students?
"My goal has always been to make the connections between our industry and our students. Our biggest problem is not allowing our students to get out on the jobsites at an earlier age," Williamson explained. "Right now, I have tenth-grade students operating every common power tool that can be found on any job site across the state. The day after school lets out, they are no longer allowed to touch that equipment. These students want to work, employers need help, but our state laws/PDE forbid allowing trained students to work in our industry. We are losing too many of our excellent, hard-working, trained students to the retail businesses because it is their only legal option. With a stroke of a pen our legislators and PDE could fix that problem."
One of the students who went right to work after graduation is Brandon Sick. He currently works for Quality Air Mechanical as an HVAC service technician.
"My education at Williamsport helped prepare me for the workforce by learning a broad understanding of the construction field," he said. "Not only the labor-intensive part of being in the field swinging a hammer, but also learning some of the estimating and managing of a job site as well."
Brandon wanted to get into this kind of work because his family owned an automotive business and he wanted to try something different.
He was on the 2015 team that took first place at the IBS Student Competition in Las Vegas. "Without the support of the West Branch Susquehanna Builders Association, we would have never been able to compete in the construction management competition and do as well as we did. Not only did they help by supplying us with funds to help us afford to go but, if we had questions related to certain topics and any of the members were more than glad to help us," Brandon said.
Randy Williamson says the goal for Williamsport Area High School's career and technical program is to continue to deliver industry-aligned training in programs of study that prepare students for high-demand/high-wage occupations.
"There are so many great opportunities for our students. Someone needs to fill the ever-increasing skills-trades job gap. Because the average age of construction workers is way too high," he said. "Also, parents and their children don't need to go $100k in debt to find a great paying, life sustaining job."
Why should PBA members get involved in their local CTC programs? When the home building industry joins forces with the school and instructor it takes the program to a different level. Professionals have so much to offer these students – expertise in specific fields. Make a big deal about it, celebrate that student, you will eventually reap the rewards of doing so.
Some examples of how to participate include:
Take on a student in a CO-OP program and give them an education on a real jobsite, no matter how well-intentioned an instructor is, that experience can't be replicated in a classroom/shop setting.
Take time to explain what you are doing, and why you are doing it the way you are.
Join an Occupational Advisory Committee and help guide your local program to fit the needs of our industry.
Local HBAs should invite local students to your association's events.
Give a scholarship to a student going to college, or a toolbox filled with tools to a student going directly into the workforce.
Keep the instructor up to date on the latest and greatest tools, equipment, and materials.
When he hears the parents say, "I don't want my kid swinging a hammer the rest of his life" Randy asks them to let their child make the final choice.
"Their dream may not be your dream. Some of our students despise desks and paperwork and truly enjoy being outside and working with their hands," he said. "This is no longer the Vo-Tech of the 1980's. Yes, some of our kids will shoot nails or answer service calls for frozen pipes at midnight on Christmas Eve. There's nothing wrong with that – if it's your toilet you'll be glad someone was there!"
"Know that some of our kids will go on and acquire a four-year construction management degree, just as professional, rewarding and arguably more challenging than any other business management degree. And getting a degree – as long as your child took their studies serious – can pretty much guarantee close to pretty close to 100% job placement.
Those of us in the home building industry should be grateful for the programs offered by schools such as the one at Williamsport Area High School. Not only are they teaching the skills needed, but they are also making sure that there is a workforce of tomorrow.
Williamsport Area High School
2990 W. 4th Street
Williamsport, PA 17701
570-323-8411
Website LINK
Program Instructor – Randy Williamson
Administrator – Matthew Fisher
Your support of the PBA Endorsed Trade Program helps to prepare this workforce of tomorrow. For more information on how you can contribute to this fantastic cause, visit the Pennsylvania Foundation for Housing here.