The New Home Buying/Building Process
Buying a brand new home is a big decision and an important investment, and there is a lot to think about. You want to buy with confidence, enjoy the experience and know that you have made the best decision for you and your family. If you are building a new home, the more you know about the process, the more enjoyable your experience is likely to be.
Typically, the process of buying a brand new home takes place over time and in several stages. To start, you want to take some time determining your priorities, define what you want in a home, where you want to live, how much you want to spend, and then explore what's available. Once you have narrowed your choices down to one community, one builder, and one home, you are ready to work out the details and sign a contract with your builder. Then it's time to step back and let the builder do the work.
Phases and the overall process will vary – based on area, builder, weather, etc. This guide is meant to give you a general understanding of how the process works. Talk to your builder when it's time to discuss a process specific to your build.
Phase 1: Research
Get off to a great start by doing some pre-planning before you go house hunting. Discuss with everyone in your household what they want in a new home and surroundings. Make lists of what's important and divide them into must-haves and would-be-nice-to-haves. Also think about what you absolutely don't want to live with. Here are some of the things you should consider:
The community – traffic, distance to work, schools, shopping, parks, etc.
Your home –  size, layout, energy efficiency, outdoor spaces, etc. Will you want a completely custom-built home or a more standardized home?
Financing – down payment you can afford, monthly payments you can afford, and other financial obligations.
Start by checking in with your local builders association. Know which lenders and builders are members. Check ads in newspapers to get a sense of what is being offered in the current market. Talk with friends, neighbors and co-workers who may have recently gone through the same process.
Explore your options:
Visit home shows, research online, and visit builders' model homes and sales offices; the key to successful home hunting is to take your time. Don't rush. Take a thorough look at everything and ask questions – lots of them. The builder or salesperson should be ready and pleased to answer each question. Sales offices will often have a complete information package on the homes, the development and the community, including schools and other facilities. And keep in mind that a builder's model home is usually just one of several designs offered.
The Builder:
You should shop around for your builder as carefully as you do for your home.
Is the company a member of the local Home Builders Association? Membership is an important indication of their professionalism.
Is the company associated with a particular new home warranty program?
How long has the company been in business, and on average, how many homes do they build annually?
Where else have they built and/or are they building now? (It's worth a quick tour to see if you like the finished results.)
 Notice the quality of any current job sites.
 Will they give you the names of past customers for references? (Do check with a few to find out if they are satisfied and would recommend the builder.)
Ask about after-sales service. A professional builder has an established follow-up system.
Find out, in detail, what the warranty on your home covers.
What is the recommended deposit? Can you make a refundable deposit to hold the home/lot for a few days or a week while you make a final decision?
Are you expected to make milestone payments throughout construction or pay the full price of the home, less deposit, on the day you take possession?
When can construction begin, and when can you expect to move in?
Who will your contact person be, before and during construction of your home?
What is the policy on change orders?
Would you be able to visit your home during construction?
Phase 2: Pre-Construction
Finally, it's time to make some important decisions. When you know enough to move forward, you'll want to get pre-approved by your lender. When you have found the home you want, and you are confident that you are dealing with a professional builder, you will be able to begin developing plans for your new home.
The contract, or purchase agreement, is your opportunity to verify your purchase. It should include a detailed description of your home, including features and finishes, and spell out whether they are standard or upgrades, and any additional costs. Before you sign, you and your builder will review the contract together. This ensures that both parties agree to exactly the same thing.
Finalized plans will be submitted for necessary permits, which may be required for all or some of the following work: building, electrical, plumbing, septic system and sewer connection. A number of site tests may also be necessary that can result in final engineering adjustments to your plans.
Phase 3: Foundation
The foundation is the structure on which the rest of your house is built. Whether it is stone, concrete, steel or wood: a basement, crawl space, pilings, or slab on grade, it need to be strong, square and dry. You may want to seriously consider a waterproofing system that will protect areas below grade.
An initial inspection of the foundation may be required before the outside perimeter is back-filled.
At this time, the builder may ask you to begin making your selections on flooring, tiles, cabinets and so on. While it will be weeks before these items are installed, they must be ordered early to prevent delays later.
Phase 4: Framing
Many people consider the framing stage to be the most exciting because you can watch the basic structure take shape pretty quickly. When the crew finishes the first floor deck, you will finally be able to take your first walk around your new home.
Exterior walls, interior partitions and the roof are assembled during framing. Windows and doors are installed. The builder will want to get "under roof" as quickly as possible to protect the structure from the elements. Electrical and plumbing services are roughed in and ducting for heating, cooling and ventilation is put in place.
During this time, there may be a structural inspection required to ensure the home is being built according to code requirements. Electrical and plumbing inspections will likely be conducted as well.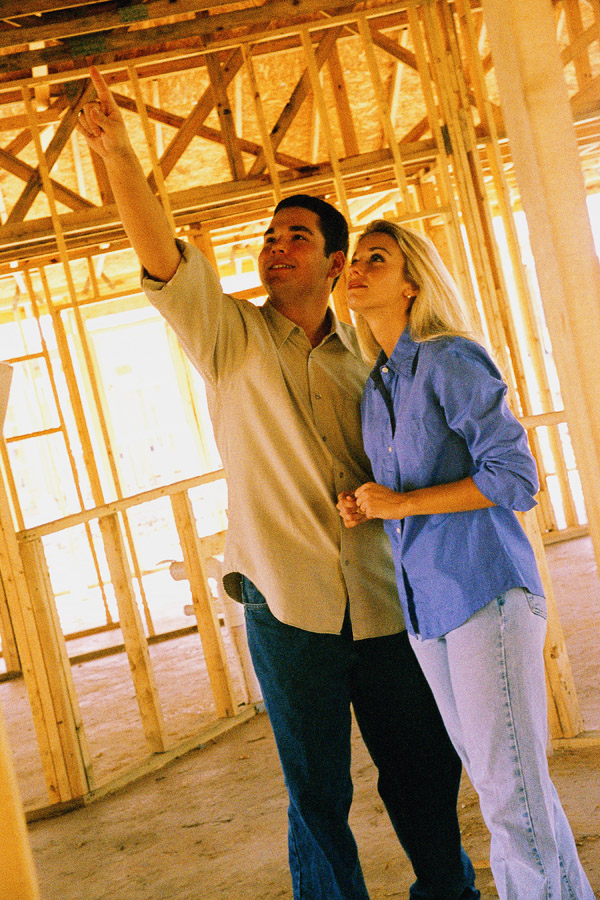 Phase 5: Rough-Ins
As the individual trades converge on your new home, things will appear to slow down a bit. In reality, a lot more work is being done, it just doesn't appear to be as dramatic as the framing process.
Dozens of people will be installing the inner workings of your house. Plumbing, heating, air-conditioning, lighting, security systems, central vacuum lines, cable, computer networking, exhaust fans, fireplaces, and lots of prepping for things yet to be installed.
During this phase, your builder should stay in regular contact with you, to update you on progress, and to meet deadlines for selecting finishes and other interior/exterior details.
Phase 6: Interior Finishes
When everything has been roughed-in properly, it's time to finish the walls, install the doors & trim, hang cabinets, put down flooring, etc.
After interior painting is complete, the next things to be installed are the light fixtures, counter tops, appliances, plumbing fixtures, mirrors, shower doors, security systems, door knobs, towel bars and toilet paper holders.
Phase 7: Exterior Finishes
While work is progressing inside, there is much to be done outside as well. Siding is applied, along with gutters, porches, decks, etc. Final lot grading is done and the driveway and walkways are put in. Several additional inspections may occur.
Phase 8: From near-completion to hand-over
At this point, your builder and crew are busy completing the final touches and cleaning up. You will be asked to do a walk-through of your home with the builder. Any last minute touch-ups will be done.