By Denise Allabaugh, Staff Writer for The Citizens' Voice
Photo credit: Mark Moran, The Citizens' Voice
Dave Balent, owner of Balent Construction in Exeter, struggles to find skilled workers to fill jobs and took a step Thursday to try to address a labor shortage in the skilled trades.
Balent, a board member and past president of the Home Builders Association of NEPA, visited Wilkes-Barre Area Career & Technology Center to meet with instructors and review material being taught in skilled trades to assure best practices are followed.
"As an employer, we know what we need in a future employee so we make sure they're teaching what we need to come out and get a well-educated and well-informed employee," Balent said. "They teach what we need in the trades. We need skilled masons, laborers and carpenters."
Balent met with masonry instructor Anthony Ciliberto during his visit as masons are in high demand. They looked at stamped concrete, which is popular now in the masonry industry. Balent said another reason for his visit was to ensure that instructors are using the right equipment and tools
Dr. Anthony Guariglia, administrative director at Wilkes-Barre Area Career & Technical Center, said the school's trade programs including masonry, residential construction, HVAC, electrical, carpentry and plumbing have been endorsed by the Pennsylvania Builders Association, which is the voice of the home building industry in Pennsylvania.
Every three years, the programs undergo a curriculum review and members of the Home Builders Association of NEPA volunteer their time and expertise to assist.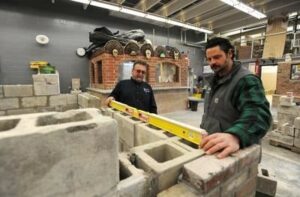 "We're thrilled that the Pennsylvania Builders Association and Wilkes-Barre Area Career & Technical Center have an excellent partnership," Guariglia said. "They provided us with an opportunity to have our courses, which are already approved by the state, be further endorsed by the Pennsylvania Builders Association. We could use that endorsement, which is a wonderful standard, to allow our students to have a lot more options available to them."
About 930 students attend Wilkes-Barre Area Career & Technology Center. More than 100 students are in a Co-Op program and 90% of them are offered jobs right after they graduate, Guariglia said.
According to the U.S. Chamber of Commerce, the demand has increased 360% for carpenters, 244% for electricians and 240% for skilled construction workers from January to August of 2021.
Balent said one reason to pursue a career in the skilled trades is that "you could earn a very good living."
According to the National Association of Home Builders, the average annual salary is $54,200 for carpentry, $61,550 for electrical, $61,100 for plumbing, $53,410 for HVAC, $57,880 for masonry, $46,460 for painting, $51,930 for drywall and $46,690 for welding.
Ciliberto, who is a mason, said he tells his students from the get-go that they have the opportunity to make money if they pursue jobs in masonry. He said what he finds rewarding about his job is to stand back and look at his work and say "I did that."
This piece first appeared in the March 10 edition of The Citizens' Voice. It is printed here with permission.
The article was made possible through the coordination and hard work of the HBA of Northeastern PA Executive Officer Karen Martin.