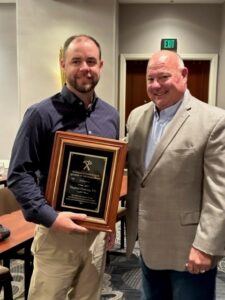 Stephen Fleming, pictured at left, of the Home Builders Association of Metropolitan Harrisburg was recognized with the PBA Hammers and Gavels Award honoring his work in representing the statewide legislative advocacy efforts on behalf of the residential construction industry. This award is one of the association's highest awards presented by PBA.
Presenting the award, Mark McNaughton, Vice Chair of the Governmental Affairs Committee, noted that the recipient of the Hammers and Gavels award is required to possess the following qualities to be considered:
Interest in the legislative process;
Dedication of time to make the initial and follow-up contacts
Knowledge of the issues under consideration.
Mr. Fleming's enthusiastic and unrelenting efforts in his advocacy on behalf of the residential developer in Pennsylvania prove once again that one voice can indeed make a difference when applied to a cause passionately.
In May of this year, Mr. Fleming provided testimony before the Senate Republican Policy Committee on the topic of 'Promoting Housing Affordability through Land Use Reforms' and most recently he testified against a bill at the House Environmental Resources and Energy Committee that would require 300-foot mandatory riparian buffers on all PA waterways.
Stephen Fleming is the President and Owner of BiltBold, a custom home building and development company. He is also a licensed Real Estate Broker, and a Licensed Civil Engineer (P.E.).  Prior to his career in home building and real estate, he was a consulting engineer in the land development and municipal sectors for over 16 years. He also serves as the current President of the HBA of Metro Harrisburg.