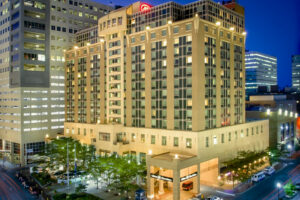 The Fall 2023 Committee and Board of Directors meetings will be held October 26-28 at the Harrisburg Hilton located at One North 2nd Street in Harrisburg.
The hotel is offering a special rate to PBA members of $169 per night – that's a savings as much as $90 per night.
ROOM RESERVATIONS
Guests have two ways to book until block sells out or cut off which would be 11:59pm October 4.
Online reservations can be made by clicking HERE. Please select EDIT STAY to reflect how many nights you will be staying.
Phone reservations can be made by calling 717-233-6000 and giving the group code BUILD
PARKING
Available in the connecting Walnut Street Garage. Special rates are also available from the Hilton. TICKETS MUST BE VALIDATED AT THE FRONT DESK:
Overnight Self-Parking $12 per vehicle per night with as many in and out accesses as needed. HOWEVER, guests must make sure to switch out tickets at the front desk.
Valet $26 per night
Day guests $7 for up to 10 hours from pulling ticket in garage. Tickets must be validated at the front desk.