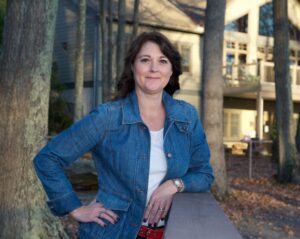 Cindy Cepko, co-owner of Granite Homes, a building-remodeling company in Northeastern Pennsylvania, is the 71st President of the Pennsylvania Builders Association.
In this role, Cindy will oversee PBA's activities on both the state and national levels. She will be the liaison to the task forces and coalitions where PBA is a member. Cindy was previously the PBA Vice President.
Cindy, who is originally from Exton, PA, has been selling homes since 2003. She started her career in the home building industry when she was asked to lead the sales team for a local builder, Forest Homes of Lake Wallenpaupack. In that position she sold panalized homes in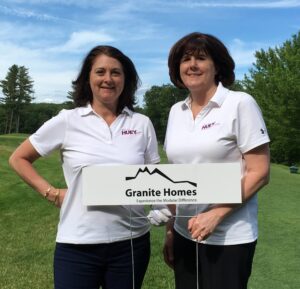 the fast-growing vacation area of Masthope Mountain Community.
Early on she utilized the National Association of Home Builders Designation program to learn about the sales process and obtained her Master Certified Sales Professional designation and worked up to MIRM (Master in Residential Marketing) in just a few short years, but more importantly, Cindy learned a lot from asking questions and spending time with the trade workers on their jobs. She was curious how homes were built and wanted to be able to explain this process to her customers. From heating systems to insulation/energy saving details, she developed a knowledge base.  "I wanted to be able to have the answers to everyone's questions and to be able to truly understand the building process."
She also built long-lasting relationships with many of the homeowners and after several years of selling, she would have customers come back and ask about additions or finishing their basements, building garages, and more. With those needs in mind, Granite Homes (a registered WBE) was born.
The key to success is building a rapport.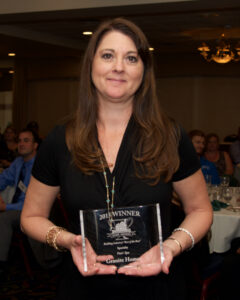 "Sales techniques can be taught," she said. "But I truly believe my personal relationships with my customers is what makes me so successful in my business. It takes a personal touch to engage with people."
That personal touch and zest for building relationships is also what led Cindy to become active in her local association – Wayne Pike BIA. There she saw that she could help make a difference. Her first formal role was to chair the membership committee and organized "Phone-a-thons" and Regional Membership Drives.  She created tools to help members recruit other industry professionals by building relationships  and mentoring them before joining.  By "building those relationships, engaging with potential members and keeping current members involved, just makes them feel comfortable and lets them know that their membership is important," she explained.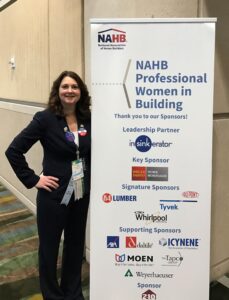 From there, she then went on to serve on the Wayne Pike Board of Directors and was elected the local's President in 2018.
Cindy has always realized the importance of getting involved in the bigger picture. In 2009, she joined the NAHB Professional Women in Building then known as the Womens Council. That interaction immediately provided a sense of belonging and comradery among the other members. She attended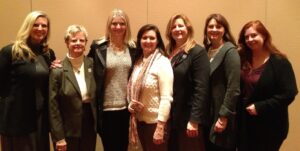 all the national meetings and soon became involved in a trustee position overseeing state and local councils in her region. Ultimately, Cindy Cepko was Chair of the NAHB Professional Women in Building in 2016. Her focus was on getting the younger generation involved in the Council and growing a strong sustainable member base.
The biggest impact that being involved with PBA has provided is a wealth of friendships and industry contacts. And with that support, Cindy strongly feels that members should support the industry that supports them. It's a theme that she plans to stress during her term as PBA President.
In addition, Cindy is focused on providing tools for local associations that will help them grow memberships. She hopes to establish a culture where members feel more comfortable recruiting others.
"I feel that PBA needs to create a universal message that can be used by all locals to grow their members," she said.
When she can break away from her duties with Granite Homes and PBA, Cindy is also a Pennsylvania Realtor and is a Certified Resort & Second Home Specialist. In that role, she oversees the listings and bookings of over 30 vacation home rentals around Lake Wallenpaupack. And marrying her passions, Cindy has been able to have Granite Homes often partner with these vacation homeowners to provide them with home maintenance especially since their homes are often vacant when not rented.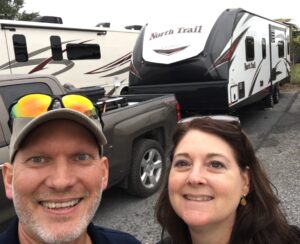 Even with all those responsibilities, Cindy still makes time to enjoy traveling with her husband. Cindy and Chris Cepko have been married for 30 years and enjoy relaxing in their travel trailer as well as hunting and fishing. And if she can steal away, Cindy really enjoys a great nap!
But with her enthusiasm, energy, and agenda, those naps may have to stay on the back
burner for now.
Congratulations, Cindy!