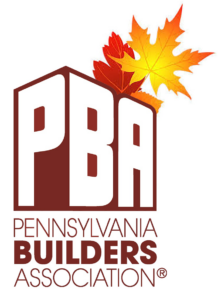 PBA members gathered in Hershey October 7-9 for the Fall Committee and Board of Directors meetings. Committee chairs provided the following reports to keep all members informed.
Associates Council – Dean Hilliard, Chair
The Associates Council held a breakfast meeting during the Fall Board meetings. Attendees reviewed a recent survey of Associate Members for their input on the value of membership. Additionally, respondents provided their thoughts on the Council's direction. Chair Dean Hilliard will follow up with specific questions and comments.
The Council is reaching out to the local associations to see which ones have Associate Councils. Dean Hilliard will develop talking points for local Executive Officers to use in recruiting new members.
Communication Committee – Peter Gallagher, Chair
Committee members reviewed the current social media initiatives and engagement with the Trade Secrets weekly e-newsletter. The latest – and final – edition of Building Pennsylvania, the PBA magazine, was recently published. Due to the cost of postage, the decision was made to halt the print edition and instead develop a regular newsletter that would be distributed to members via e-mail.
A survey will be done investigate the types of welcome packages that the local associations send to their new members. Based on that input, a best practices guide will be developed for all locals to use to their advantage.
Future focus will be put on the consumer to use a PBA member for their needs. The strategy behind this is to increase the value to members by promoting them to the general public.
Government Affairs Committee – Jim Rumbaugh, Chair
The Government Affairs committee met on Friday, October 8 to review current priorities as well as other important legislation.  Two Industry Action Fund applications were approved: up to $25,000 to help fund a statewide study on how the cost of regulatory mandates effects housing affordability in Pennsylvania; and up to $30,000 to challenge the regulatory adoption of the 2021 ICC Accessibility Provisions. Both of these requests were approved by the Board of directors. We are always looking for more expertise and member participation in the many issues we handle. If you have or would like to have a working relationship with your local Representative or Senator as a Hammers and Gavels member, or have knowledge or interest in the many issues we cover, please contact Sarah Miller (smiller@pabuilders.org) or Jill Pento (jpento@pabuilders.org)
Membership Committee – John Olson, Chair
The Membership Committee met to discuss new ways to grow local and statewide membership. For several years, the focus has been on reasons for those in the industry to become members. Those in attendance, in conjunction with the Communications Committee, determined that there needs to be more of a push to the consumer on why they should use members for their construction and home repair/renovation needs. By promoting the professionalisms of current members, the committees believe that the practice will attract new members in the future.
There were several other suggestions that were suggested and are being reviewed to help grow membership including the 3-in-1 membership opportunities, social media marketing, and utilizing marketing materials that are currently available.
PBA-PHRC Committee – Gene Kreitzer, Chair
The PBA-PHRC Committee met on Friday, October 8 to discuss upcoming PHRC activities that offer PBA members an opportunity to get engaged in training and outreach. With the UCC codes changing in February 2022, there are opportunities for code-related training in the form of live and on-demand webinars, speaking engagements, and the 30th Annual PHRC Conference in March 2022. Local associations have already been requesting training and will host events throughout the fall and into 2022. For more detailed information on available resources and training, visit PHRC.psu.edu.
Workforce Training & Education Committee – Kert Sloan, Chair
There are 11 schools on the docket for revaluation for the Endorsed Trade Program. The program director asked that each local contact schools in their region renew their NAHB student chapter and start to plan activities with ETP school in their region. There will be a group of PSU students competing at the IBS this year. Dean Hillard was appointed as the new PA Foundation for Housing liaison to the Workforce Training and Education committee. Talking points are being developed for members to use when they address students, parents, and teachers about PBA and the Endorsed Trade Program. A proposal to highlight Career and Technical schools involved in the ETP was reviewed. The Workforce Committee agreed that this was an excellent proposal and are eager to get started.  We are looking for PBA members willing to work with their schools and to create content that highlights the Endorsed Trade Program, their local schools, and the cooperation between the Pennsylvania Builders Association and the ETP schools.
Board of Directors Meeting
The PBA Fall Board of Directors met on Saturday, October 9 at the Hershey Lodge and Convention Center. President Cindy Cepko presided over the meeting and welcomed members and guests.
On Thursday evening prior to the meeting, Buddy Hughes, NAHB 2022 Candidate for Third Vice Chair, met with members. During the Board meeting, members unanimously approved a motion to approve and support Mr. Hughes' campaign.
Government Affairs Chair Jim Rumbaugh presented two recommendations to the Board of Directors. The first request was a recommendation from the GA Committee for up to $30,000 coming from the Industry Action Fund to challenge the regulatory adoption of the 2021 ICC Accessibility Provisions. The second was a request for up to $25,000 from the Industry Action Fund to help fund a statewide study on how the cost of regulatory mandates affects housing affordability in Pennsylvania. Both recommendations received proper motions and seconds and were unanimously approved by Board members.
Mr. Rumbaugh thanked the members for their participation in the Friday PaCAH fundraiser event which raised $4,400 in contributions. He then accepted local association contributions which totaled $9,000.
Membership Committee Chair John Olson recognized three locals for outstanding growth in membership during 2021. The BIA of Philadelphia was honored in the large-sized association category along with the BA of Central PA and the Central Susquehanna BA in the medium and small-sized categories, respectively.
Nominating Committee Chair Jon Sukonik brought forth the following nominations:
2022 PBA Senior Officers:
President – Cathy Sloan, HBA of Berks County
Vice President – John Olson, Wayne-Pike BIA
Secretary – Thomas McCosby, Lawrence County BA and Mercer County BA
Treasurer – Richard Clawson, Indiana-Armstrong BA
Associate Vice President – Dean Hilliard, Central Susquehanna BA
2022 NAHB Officers:
NAHB State Rep – Maria Coutts, Wayne-Pike BIA
Builder State Delegate to NAHB – Jon Sukonik, HBA of Bucks &Montgomery Counties
Associate State Delegate – Amy Martino, BA of Metro Pittsburgh
2022 Regional Officers:
Mid-East Region: RVP-Darrell Adams; RLO- Robert Wright; and PHRC-Gene Kreitzer
Mid-West Region: RVP-Matt Houser; RLO-Gene Horomanksi; and PHRC- Richard Clawson
Northcentral: RVP-Steve Brown; RLO-TBD; and PHRC-Laurel F. Mueller
Northeast: RVP-Jake Arner; RLO-Dave Balent; and PHRC-Dave Balent
Northwest: RVP-Paul Bell; RLO-TBD; and PHRC-Thomas McCosby
Southcentral: RVP-TBD; RLO-TBD; and PHRC-TBD
Southeast: RVP-Bill Creeger; RLO-Rich Carroll; and PHRC-Jon Sukonik
Southwest: RVP-Heather Dieckmann; RLO-Matt Keith; and PHRC-Daniel Meade
All were approved and elected by the Board of Directors.
Those in attendance were provided with a financial review by PBA Treasurer Richard Clawson and then were presented with the proposed 2022 PBA Budget by President-Elect Cathy Sloan.
Following discussion and input by several PBA Past Presidents, the proposal was amended to increase Senior Officer travel expense and then approved by the Board of Directors.
Cindy Cepko thanked all PBA members as well as Senior Officers and staff for their support during her year as President. She closed by sharing that she wanted to stay involved with the association and mentor future leaders of this great association of ours.  She asked that all those in attendance go back to their locals and spread the word.  One in '21 is the goal and PBA will continue to prosper and grow.