Those planning to attend the Summer Committee and Board of Directors meetings in Gettysburg July 27-29 should make room reservations before June 23 to avoid higher prices.
The meetings will be held at the historic Gettysburg Hotel located in the heart of town at One Lincoln Square.
Online reservations can be made by clicking HERE or calling 1-866-378-1797 and use the code "PENN072623" or ask for the Pennsylvania Builders Association Room Block.
Cost of the rooms with the discount are as follows:
Wednesday, July 26 – $189 (regular price $244) – SOLD OUT AT THIS COST

Thursday, July 27 – $189 (regular price $244) – SOLD OUT AT THIS COST

Friday, July 28 – $209 (regular price $305)
Saturday, July 29 – $209 (regular price $260)
So, there is a significant savings but that is ONLY available until June 23 – NO EXCEPTIONS.
When you first enter the reservation site, make sure you to click the red SELECT & GO TO THE NEXT STEP box.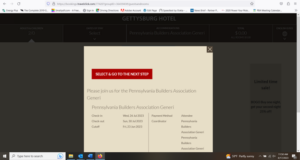 You must click your CHECK-IN date AND the CHECK-OUT date and click the red CONFIRM DATES OF STAY box.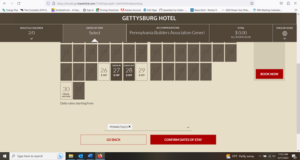 You will then be directed to a screen to BOOK your stay.