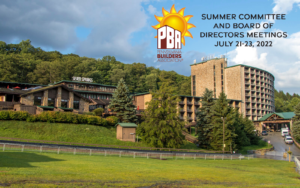 The Summer Committee and Board of Directors meetings took place July 21-23 at Seven Springs Mountain Resort. The various committees worked to update members, set goals, and assign tasks. Below are reports from the Chairs along with a wrap up of the Board meeting.
PHRC
The PBA-PHRC breakfast meeting on Friday, July 22, kicked off a full day of committee meetings and discussions. This meeting provided an opportunity for PBA leadership to talk with members of the Pennsylvania Housing Research Center (PHRC) team as the fall training and event schedule quickly approaches. Brian Wolfgang and Tracy Dorman presented an overview of the upcoming slate including PHRC webinars, the 2023 PHRC Housing Conference, and opportunities for invited speaking engagements. As the PHRC is housed at Penn State University, upcoming Penn State student-focused activities were also discussed such as the 2022 Hankin Lecture, career fairs in Civil Engineering and Architectural Engineering, and opportunities to participate in Penn State courses. Future questions and inquiries were directed to the PHRC website at www.phrc.psu.edu.
Membership/Communications
The Membership and Communications committees merged for the Summer meeting. Attendees were given samples of more than a dozen customizable membership marketing pieces that PBA makes available to the local HBAs. Shawn Callahan, NAHB National Area Chair, was present. He mentioned the need for involvement and participation from all the locals and members. Chair Tom McCosby noted the need for in-person events, which are more likely to bring in Associate members and generate more quality member-to-member interaction.
Attendees also stressed the critical need for local Executive Officers to take part in mentoring and helping new EOs so they can get up to speed.
Government Affairs
The Government Affairs committee met on Friday, where they were updated on environmental issues, municipal issues, codes related issues, and approved three IAF requests. The GA staff reported that it was a successful spring for PBA because two pieces of legislation that PBA worked on that were signed by the Governor.
In addition, PaCAH had a successful weekend with four events raising over $9,000. Information will be sent out soon regarding the upcoming fall PaCAH Trustee zoom in September.
Workforce Training and Education
The committee is working on October "Careers in Construction" Month to try and create a calendar of topics for locals to focus on during the month. More to come. There is now a "Workforce Spotlight" page that points local EO's and members to the NAHB website for information on Talking Points, Media Resources and ideas on how to promote workforce development at your local. New materials will be distributed shortly.  Kert Sloan and Dave DiPasquale are working on testimonials, short video clips and other statements supporting the program from individuals who have participated over time.
Professional Women in Building (PWB)
Local councils gave reports on activities in their areas. Representative from BAMP and York BA inquired about starting councils in their areas. There was much discussion on how the State could help get them started. Those present approved giving each new council a one-time $250 donation to use at their own discretion to promote growth.
Board of Directors Meeting
PBA President Cathy Sloan welcomed the members of the PBA Board of Directors for the summer meeting. Reports were given from the Government Affairs and Membership Chairs.
Cindy Cepko, Nominations Committee Chair, brought forward the formal nomination of John Olson, Wayne Pike BIA, for the 2023 PBA President. Ms. Cepko also recognized Life Directors Jake Arner (Carbon BA), Steve Brown (Central Susquehanna BA), Cathy Sloan (HBA of Berks County), Kert Sloan (HBA of Berks County), and Michael Troutman (Carbon BA).
The Treasurer's reported that PBA's investment portfolio remains strong despite the consistently negative performance in the equities markets during 2022.
Mark McNaughton collected checks totally more than $25,000 toward the PaCAH goal which will help aid housing-friendly candidates in the upcoming election.
Maria Coutts, NAHB State Representative, reported on the activities of NAHB and gave an update on BUILD-PAC goals.
Cathy Sloan adjourned the meeting and encouraged members to join the Fall meeting set for October 20-22 at the Hershey Lodge and Convention Center.