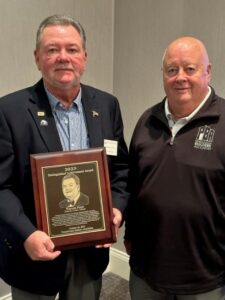 PBA's Distinguished Achievement Award is presented to an individual who has made significant contributions benefiting members of PBA and the housing industry.
During the recent PBA Fall Board of Directors meeting in Harrisburg, Richard Clawson, recipient of the 2022 award, presented the Association's highest honor to the 2023 honoree Warren Peter.
Mr. Peter has been a dedicated and enthusiastic supporter of the home building industry for many decades. Among his contributions to his local HBA, PBA, and NAHB are the following:
Indiana-Armstrong Builders Association President (3 times) AND Secretary (3 times)
2012 PBA President as well as Vice President, Secretary, Regional Vice President and Regional Legislative Officer
NAHB Director
Chair of the Pennsylvania Foundation for Housing
Member of the PBA Workforce Development Committee
A 30-year member of the Occupational Advisory Committee for the Indiana County Technology Center
A member of the Occupational Advisory Committee for Carpentry for Penn College
Chair of the Indiana-Armstrong membership committee several times
He has a whopping 555 Spike Credits!
Warren's dedication is evident through his involvement with the Indiana-Armstrong review committee for consumer complaints, the peer review committee for the PBA Home Warranty Program and he has brought many students to his job sites for co-op programs.
He is currently leading the rehab of a local home that realtors have purchased for a low-income family. The proceeds will go toward continuing this great program.
Mr. Peter has always put the needs of PBA and the Indiana-Armstrong Builders Association above his own goals. He has accepted the challenges from PBA Senior Officers whenever anything is asked of him.
The entire PBA family congratulates Warren Peter on this well-deserved award and we thank him for all his hard work on behalf of the home building industry!