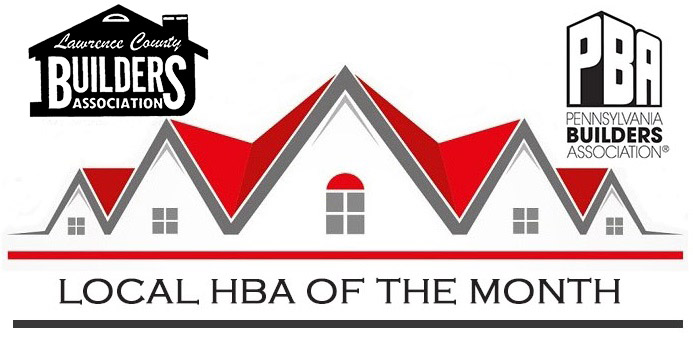 Lawrence County Builders Association
For over 40 years, the Lawrence County Builders Association has been working for home builders, remodelers, specialty trade contractors,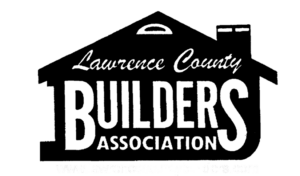 and affiliated firms that do business in Lawrence County.
Those in the industry are not the only ones to benefit from the good work that the LCBA does. Members go out of their way to serve the community and support the future of the workforce.
Local President Tom McCosby works alongside Secretary Anita McKeever, Treasurer Corey Seyler, Immediate Past President David Kosior and Board Members Perry Anderson, Jeff Cox, B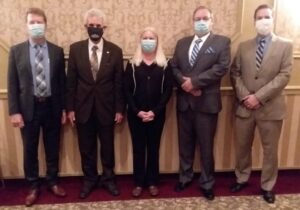 ill Schafer, Vince Snyder, and Joe Thomas to develop plans and programs that help the LCBA make such a strong impact. Pulling it all together is Executive Officer Amy Kunselman who takes care of the day-to-day business and provides individual member benefits reviews.
One of the most popular events during the year is the annual Legislative Breakfast – a joint program with the Lawrence County Board of Realtors. This event has been held for more than 20 years and is very popular with area legislators. In addition, local mayors and the county commissioners also participate.
The LCBA is very fortunate to have several members who are well versed in builder codes and regulations that impact our industry. As a service to members, educational programs are offered annually on changes and updates for building codes as well as other requirements. One of those sessions is a Department of Transportation & PA Registration, Weight Laws Seminar. It is designed to educate the public about laws that pertain to licensing requirements, securing loads properly, weight requirements, hitch requirements, and physical qualifications of drivers, chains, lights, inspections, and more.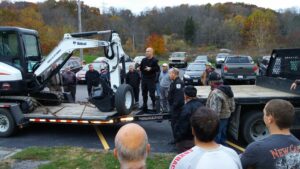 Even though COVID has impacted the way everyone can interact, it hasn't stopped the commitment that LCBA members have when it comes to supporting the local workforce initiatives. In October, the local was a virtual exhibitor in a business and career fair for 10th graders in the Lawrence County area. This February, several members participated in a virtual skilled trades career fair where they spoke to 65 students about the home building industry. In addition, in previous years, members have also served as judges for the local career and tech center VICA (Vocational Industrial Clubs of America) competitions.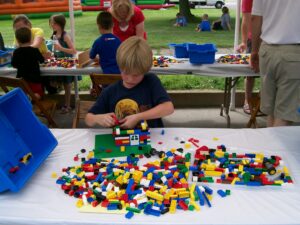 Thinking long term, even younger students have been on the minds of Lawrence County BA members. For many years, members presented the NAHB program "Homes of Our Own" to young elementary students and each student was presented with a seedling to take home and plant.  Thousands of seedlings were distributed over the years.  A "Lego" contest has been held annually with three age groups and cash prizes.  Participants were asked to build their dream home.
The community is always in the forefront of members' initiatives. Members have lent their skills and talents over the years to benefit Habitat for Humanity, participated in the construction of a local amphitheater and refurbished a Dek Hockey Rink at a community sports center.  Members also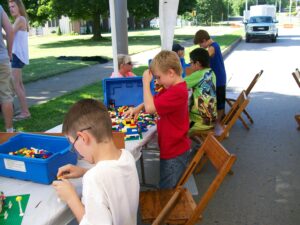 prepared gift bags at Christmas for senior citizens in the community and collected Toys For Tots.
But given the chance, LCBA members like to have some fun as well. Activities like the annual golf outing in the summer and a "Night at the Races" bring people together to enjoy themselves all while raising money for future programs and opportunities.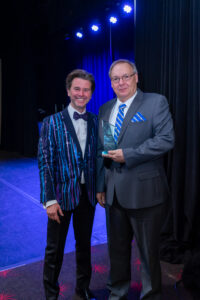 Members have made an impression beyond the Lawrence County borders. President Tom McCosby was celebrated as the 2019 PBA Builder of the Year and Jim Conner was awarded the same honor in 2007 along with being named the Small Contractor of the Year in 2001.  Jim also served as President of the Pennsylvania Builders Association in 2006.
With 40 years under their belts, Lawrence County BA members won't let challenges like COVID stand in the way of supporting and encouraging the home building industry. Their commitment and perseverance set examples for all PBA members.